CONTEMPORARY SHUTTERS
Shutters add warmth and privacy to your home and unlike many other window dressings, indoor shutters are low maintenance and easy to clean. The ultimate in style and versatility, our fantastic range of shutters will enhance your indoor living areas.
Shutter features & benefits
Effective and affordable.
Made to measure to suit any window size.
Complete colour palette available to match either fauxwood or Phoenixwood blinds
Available with 'custom colour' options to match any home decor
Manufactured to fit any shaped window.
Custom designed to your specifications and requirements
Components
Heavy duty components designed to last- Lifetime Warranty
Colour co­ordinated accessories and hardware
Design and Installation
Designed and installed with care by experts with many years of experience in the industry
​
Custom-made adjustable Shutters are the ultimate finish to your home, offering superior appearance, warmth. privacy and insulation to your windows and doors.
Select from a extensive range of internal shutters to complete the look of your room
The Santa Fe range of shutters provides an elegant functional window covering that brings the outside in, or shuts it out depending on your mood.
Contemporary Shutters This range of imported shutters is manufactured to custom fit each individual opening. They are of the highest quality and can be installed to hinge, bifold or slide, in any room within your home, apartment or bach. The unique processes that are available to Santa Fe Shutters in the manufacturing of the Contemporary Range, allows us to provide you with an economical window covering, whilst adding to the appeal and value of your home. The Santa Fe Contemporary Range provides an elegant and functional interior window covering.
These shutters are all made specifically to custom fit each opening and are available in a wide range of woods, composites, colours and finishes.
Woodlore An extremely durable and cost effective shutter with a polypropylene coating. Excellent in hard knock areas (kids rooms). Available in 9 white and neutral paint options.
Woodlore PLUS This product combines the best of Woodlore framing and stiles with synthetic (ABS) blades. The ABS blades are very hardwearing and more resistant to knocks. As these blades are lighter in weight the shutter can be manufactured to a wider dimension. Available in 26 paint colours or custom paint.
Waterproof Woodlore PLUS A very hard wearing, water resistant composite shutter manufactured in ABS. Ideal in bathrooms or hard wearing areas. Available in 26 paint colours or custom paint.
Normandy The classic wood look. Beautifully finished hardwood shutter with a smooth even finish through the whole shutter panel. Stained shutters feature a stunning distinctive grain pattern. Available in a range of 26 classic paint colours, 24 sain colours or custom paint.
Ultra A beautifully crafted elite shutter with thicker stiles, rails, and framing. if you want a shutter to make a statement this is the option for you. A hardwood shutter with an even smooth finish for absolute elegance. Paint or stain finish.
Motorisation available for hinged, bi-fold and sliding applications.
The Santa Fe Contemporary range is supplied by Norman Shutters. With more than 30 years of unwavering passion for quality, Norman Window Fashions is among the world's largest and most respected manufacturers of window coverings.
Through 30 years of continuous innovation and improvement in all aspects of manufacturing, Norman produce a truly superior product that we are proud to be offering to you. Some of the techniques and craftsmanship that goes into each shutter are detailed below:
​
Guarantee
5 year warranty on products, labour and components
Blinds Shutters & Curtains Whangarei offer a high quality range of modern and stylish window furnishings at competitive prices, for your home or office.
We take pride in having the experience to achieve the look and function you require for your home. Add the finishing touches to your home or office with custom made window furnishings from Blinds Shutters & Curtains Whangarei .
All products from Blinds Shutters & Curtains Whangarei are custom made to fit, and are covered with an extensive 5 year product warranty to ensure you are receiving the highest quality product available on the market.
Get a online quote today or call us now on 0211 95 35 35 for a free in home consultation
​
Reinforced Engineered Stile
Multiple layers of wood are bonded together to bolster the stability of the core of the stile..
Prescription Wood Conditioning
Trademarked drying technique emulates conditions of installation location to minimise post installation shrinking or swelling.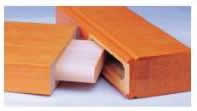 Mortise & Tenon Joint
This type of joint is very strong and is traditionally found in high quality furniture and building construction.​
Patented Polypropylene Coating
This coating is what makes the Woodlore shutters so durable with excellent resistance to cracking or chipping over time..
.
Invisible TiltTM
Mechanism
This is the next generation of louvre tilting systems that give a streamlined appearance with tight, even louvre closure.
.
Quarter Sawn Wood
Quarter sawing results in fewer boards that take much longer to dry but they are far superior for shutter construction.
.
Your Northland Santa Fѐ Agent